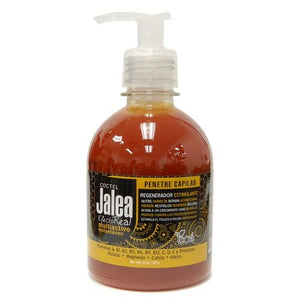 Jalea Penetre
Regular price $15.00 $10.99 Sale
Cocktail Jalea Effect Real Multiactive Instant
- Penetre - Sulfate Free
Coctel Jalea Efecto Real Multiactivo Instantáneo es un regenerador estimulante intensivo con todos los nutrientes necesarios para una extraordinaria reparación profunda. Actúa de manera instantánea con múltiples acciones en las diferentes zonas y necesidades del cabello, nutriendo, hidratando, acondicionando, revitalizando, humectando, fortaleciendo y logrando una suave, verdadera, natural y brillosa salud capilar.
Modo de uso: Usar Coctel Jalea Efecto Real Multiactivo Instantáneo antes o después del lavado u otros procesos. Aplique homogénemente sobre el cabello seco o mojado, preferiblemente con una brocha. Lleve al secador por 10 minutos a 40ºC. Retire con abundante agua o continue con los procesos acostumbrados. Nota: Podría depositar color a cabellos claros. 
Cocktail Jalea Effect Real Multiactive Instant is an intensive stimulating regenerator with all the necessary nutrients for an extraordinary deep repair. It acts instantaneously with multiple actions in different areas and needs of the hair, nourishing, moisturizing, conditioning, revitalizing, moisturizing, strengthening and achieving a soft, true, natural and brilliant capillary health. 
How to use:
Use Instant Multi-Active Real Effect Jelly Cocktail before or after washing or other processes. Apply evenly to dry or wet hair, preferably with a brush. Take to the dryer for 10 minutes at 40ºC. Remove with plenty of water or continue with the usual processes. Note: It could deposit color to light color hair.