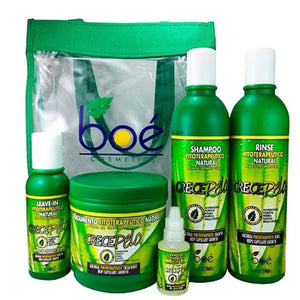 Crece Pelo - Kit 5 Pack
Regular price $30.00 $29.00 Sale
Crece Pelo - Kit 5 Pack - Natural Phitoterapeutic Treatment Help capillary growth
NATURAL first phytotherapeutic treatment, consisting in the use of natural plants, for hair growth. This innovative formula provides active extracts and 100% natural necessary for healthy hair, avoiding excessive scaling, adding Health, Beauty, Vitality, softness and flexibility through its active nutrients for perfect hair health.
Includes: 13.2 oz. Shampoo, 12.3 oz. Rinse, 16 oz. Treatment, 4 oz. crema para peinar and  20ml

Ampoule
Primer Tratamiento FITOTERAPEUTICO NATURAL, que consiste en el uso de plantas naturales, para el crecimiento capilar. Esta innovadora fórmula aporta extractos y activos 100% naturales necesarios para el buen estado del cabello, evitando la excesiva descamación, añadiendo Salud, Belleza, Vitalidad, Suavidad y Flexibilidad a través de sus nutrientes activos para una perfecta salud capilar.
Incluye:  Champú 13.2 oz, Rinse 12.3 oz, Tratamiento 16 oz, leave in 4 oz y ampolla de 20 ml