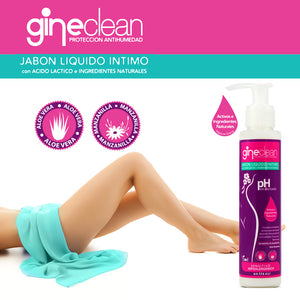 GineClean ® LIQUID SOAP INTIMATE
GineClean ® LIQUID SOAP INTIMATE - Protección Antihumedad - Jabón Liquido Intimo con Ácido Láctico e Ingredientes Naturales.
Es una fórmula que cuida de manera natural la feminidad de la mujer, nivelando el pH vaginal y creando una barrera de protección que impide el crecimiento de organismos patógenos, gracias a su concentración de ácido láctico que proporciona una prolongada sensación de limpieza, frescura, higiene y protección durante todo el día.
Activos e ingredientes naturales para hygiene diaria. Sin mentol, ni colorantes.  Contiene Savila, Manzanilla y acido láctico. 
It is a formula that takes care of the woman's femininity naturally, leveling the vaginal pH and creating a protective barrier that prevents the growth of pathogenic organisms, thanks to its concentration of lactic acid that provides a prolonged sensation of cleanliness, freshness, hygiene and protection throughout the day.
Naturals ingredients Aloe Vera and chamomile. Colorants and Menthol Free.